Our team has the right experience to provide the effective drainfield repair services you need.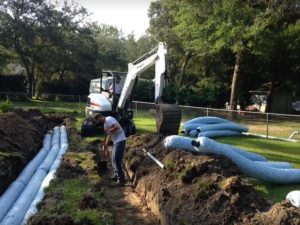 In a septic system, waste from your drains flows first into the tank, where solids sink to the bottom to be broken down by bacteria. Then, liquid effluent flows out of the tank and into the drainfield, a network of pipes and filters that treats the water and allows it to seep back into the ground. Because the drainfield is where liquid waste exits your septic system, a problem with this structure can cause problems for the rest of your system, leading to sewage backing up inside your building or puddling in the drainfield area. If your septic system is malfunctioning for any reason, you can turn to our team at Johnson Septic Inc. to get the effective drainfield repair services you need.
There are a few signs that indicate you need drainfield repair. One such sign is sewage backups, as we mentioned above, and another is a persistent smell of sewage in the air around your property. A third sign of a drainfield problem is patches of grass that are unusually lush—when this happens, it could mean that the grass in that spot is being fertilized by a sewage leak.
Our team is proud to be a part of the Pensacola, Florida community, and we are here to help you keep your septic system working properly. If you suspect that there is a problem with your drainfield, just give us a call today to discuss. We can get the drainfield repair process started and on track.